Hidden child labour: how Syrian refugees in Turkey are supplying Europe with fast fashion
Author: Frederik Johannisson, Guardian (UK), Published on:
28 January 2016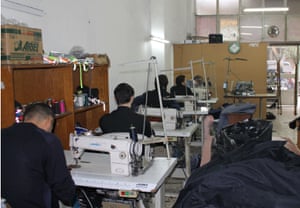 Turkey's giant textile industry is a major supplier to Europe but remains largely unregulated, an estimated 60% of the total workforce is unregistered, meaning they work informally, usually without a contract or any employment benefits. Syrian refugees make up a particularly vulnerable section of the workforce. Visiting Syrian workers in textile workshops in three Turkish cities – Istanbul, Mersin and Adana – I encountered child labour, poor working conditions and low pay.
Turkey's policy until this month had been to treat Syrians as temporary guests, with no right to work, meaning refugees could only work illegally. The landscape is shifting, however. As part of a deal with the EU, the Turkish government last week announced new regulations that will allow any Syrian who has been in the country for six months to apply for a work permit.
The move has been tentatively welcome by NGOs. Danielle McMullan, senior researcher at the UK-based non-profit Business & Human Rights Resource Centre, said permits "will go some way to provide legal protections for working Syrian refugees". But she warned: "Businesses shouldn't become complacent, they will need to know where Syrian refugees are in their supply chain and be diligent to the exploitation that has and will continue to take place."
The Business & Human Rights Resource Centre has asked 28 major clothing brands to account for their supply chains and outline the steps they are taking to protect Syrian refugees from abuse and exploitation. It will publish responses in February. [refers to Piazza Italia, Orsay, Margittes]