Malaysia: Migrant workers exploited in McDonald's restaurants - Guardian investigation
We invited the labour supply company Human Connection HR to respond; it has not responded. A report by Reuters states that, "Human Connection HR said it will hold a meeting and issue a response soon." We will add the company's response to this story once it is available.

Get RSS feed of these results
All components of this story
Author: Pete Pattisson, Guardian (UK)
28 Nov 2016
Migrant workers employed through labour supply firm allege they were deceived about wages, cheated of payments and had passports confiscated unlawfully...at McDonald's restaurants in Malaysia, a Guardian investigation has found. The workers allege they were subjected to months – and in some cases years – of exploitation by Human Connection HR, a labour supply company contracted by McDonald's in...its restaurants in Kuala Lumpur. The workers...from Nepal, say they had their passports confiscated, in contravention of Malaysian law... and were charged additional fees when they arrived in Malaysia, resulting in a 25% deduction in their basic monthly salary...this equated to the loss of months of wages. Unlike in its other major markets – including the UK and US – where McDonald's operates through a franchise model, McDonald's outlets in Malaysia are company-owned...workers criticised McDonald's for failing to respond to complaints of mistreatment by Human Connection while they were working in McDonald's outlets...McDonald's said..."McDonald's Malaysia made repeated attempts with Human Connection HR to investigate and verify issues of non-compliance shared by the workers, raising our serious concerns through both verbal and written correspondence. Because the workers are not employees of McDonald's, our efforts to address the issues were unsuccessful, as were proposals for McDonald's to assume responsibility for paying workers directly. In the interim, to assist, we authorised restaurants to provide food and provisions to workers affected while we worked to address the issue.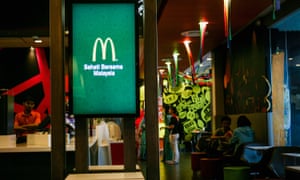 Author: Beh Lih Yi, Thomson Reuters Foundation
Fast food giant McDonald's said it has dropped a labour supply agency in Malaysia after claims emerged that it was underpaying its migrant workers and housing them in appalling conditions.
An investigation by British newspaper the Guardian said the agency supplying workers to McDonald's was withholding their salaries, which were as low as 75 U.S. cents an hour, underpaying promised wages, and confiscating their passports…
McDonald's said it has ended its contract with the agency, Human Connection HR, and pledged staff welfare is a "top priority", with companies globally under mounting pressure to ensure their supply chains are free of slavery and exploitation…
There was no suggestion of any wrongdoing by McDonald's. Human Connection HR said it will hold a meeting and issue a response soon…