Pakistan: Syngenta accused of sacking union leader for organising - company denies allegations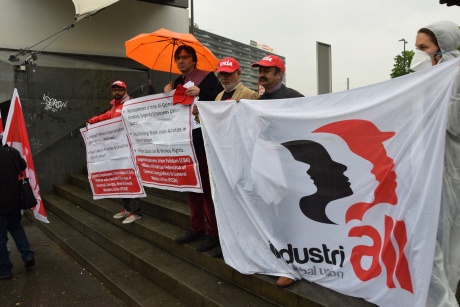 
Get RSS feed of these results
All components of this story
Author: Syngenta
The redundancy of Mr. Imran Ali was not connected with his position as Secretary of the Union in our Pakistan office. The redundancy occurred in view of an ongoing global re-alignment of Syngenta's IT function and followed due procedures...In accordance with our normal practices, all options for redeployment were first explored and Mr. Ali was offered redundancy package like other employees, which he refused to accept. Mr. Ali also challenged his termination in Pakistan labor appellate courts and the matter is sub-judice....The collective bargaining agreement negotiations have gone ahead as planned independent of Mr. Ali's employment status...The case with 50 temporary workers in Pakistan was amicably settled in October 2013 and full settlement amount was paid as per the settlement arrived. However in February 2015, a new litigation was initiated by the workers claiming Syngenta did not pay the full amount settlement, which we have challenged. We would not like to comment on the matters which are sub-judice but Syngenta remains open to constructive dialogue.
Download the full document here
Author: IndustriALL
In support of IndustriALL's Pakistani affiliate, PCEM, whose president Imran Ali was sacked by Syngenta for organizing, the global union, its Swiss affiliate Unia and civil society allies today demonstrated at the agrochemicals multinational's AGM...The blatant union busting case in Pakistan was started in December 2010 in reaction to the Pakistan Federation of Chemical, Energy, Mine and General Workers, PCEM's, effort to regularize the temporary workforce, in line with Pakistani labour law. The local labour court ruled in favour of the union's petition to 50 employees' right to permanent employment...Four days later the plant management in Karachi demanded that union leader Imran Ali sign a blank piece of paper. He refused and learned of his dismissal from the plant reported in the local Daily Jang newspaper the following day....While the company was finally forced to award permanent employment contracts in November 2013, the workers have not been properly paid, and more importantly the company continues to block their right to organize and bargain collectively, or to reinstate Imran Ali.