USA: Fair Food Program report highlights progress in improving working conditions at tomato farms in Florida
Author: Fair Food Standards Council, Published on:
12 November 2014
"Fair Food Program: 2014 Annual Report", Nov 2014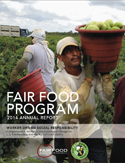 This is the second annual report by the Fair Food Standards Council on the state of the Fair Food Program [FFP].  It includes an assessment of the implementation of the Fair Food Program in the Florida tomato industry through August 2014...The FFP has made significant additional strides towards full compliance among Participating Growers.  Areas of improvement include: Hiring and registration...Timekeeping; and the disappearance of sexual assault cases and the simultaneous acceptance of responsibility by Participating Growers for the prevention of hostile work environments. Improvement is still needed on some fronts, including the implementation of Health and Safety Committees...[The FFP] is achieving dramatic, concrete change and demonstrating a replicable, scalable model for expansion...In January 2014, Walmart, the world's largest retailer joined...
Related companies: Aramark Bon Appetit Management (part of Compass Group) Burger King Chipotle Compass Group McDonald's Sodexo Subway Trader Joe's (part of Aldi Nord) Walmart Whole Foods Market (part of Amazon) YUM!