Engage the Chain: an investor's guide on agricultural supply chain risk
Author: Ceres, Published on:
18 July 2017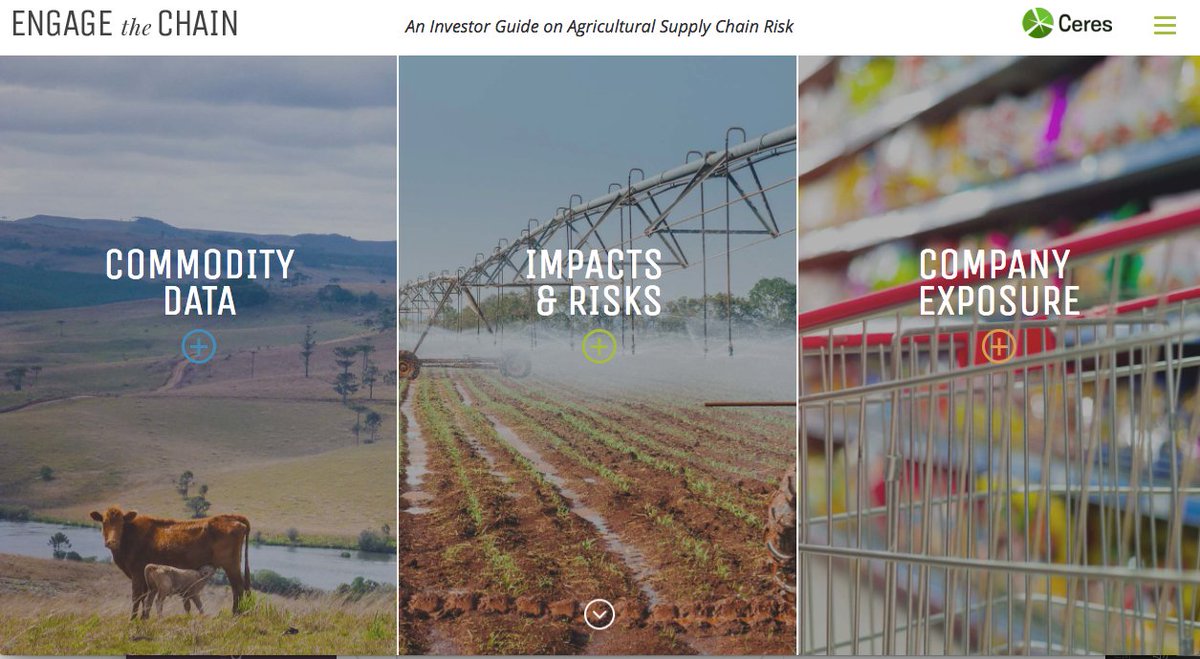 Agricultural commodity issues represent fundamental constraints on supply chain security and consumer acceptability in the context of growing demand...Engage the Chain overviews the environmental and social risks and impacts of 8 commonly sourced agricultural commodities: beef, corn, dairy, fiber-based packaging, palm oil, soybeans, sugarcane and wheat. These commonly sourced commodities are among the most prominent drivers of deforestation, greenhouse gas emissions and water depletion and pollution. The interactive guide also identifies the major U.S. headquartered food and beverage companies that source these commodities and clarifies actions investor and companies should take to reduce agricultural supply chain exposure. [Refers to: Cal- Maine Foods, Congara Foods Inc., Flowers Foods, Hain Celestial, Packaging Corporation of America, Pinnacle Foods, Post Holdings, Restaurant Brands International] 
Related companies: Archer Daniels Midland Bunge Campbell Soup Coca-Cola Costco Darden Restaurants Dean Foods Dr Pepper Snapple Group General Mills Hershey Hormel International Paper Kellogg Kraft Heinz McDonald's Molson Coors Mondelēz International PepsiCo Pilgrim's (part of JBS) Reckitt Benckiser SJM Starbucks Tyson Walmart Wendy's WestRock YUM!