Article
Restart of operations of the Morelos Integral Project violates the rights of towns and ejidos and puts defenders at risk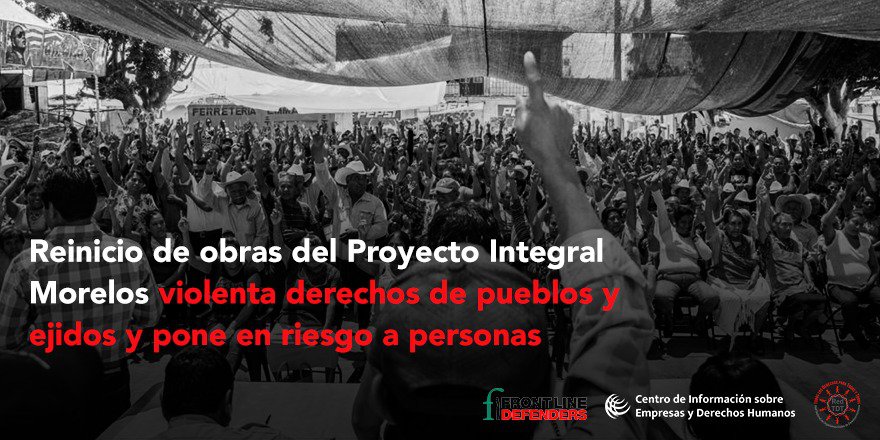 Statement by Front Line Defenders, Red TdT and BHRRC
In the early morning of 23 November, 300 members of the National Guard arrived at the Zapatista Camp in Apatlaco, located on both sides of the Cuautla River in the state of Morelos, to evict the camp that was guarding the territory. The Guard placed metal fences to prevent human rights defenders (HRDs) – who were there to protect their territory – from relocating the camp. Later, the National Guard allowed the entry of machinery to restart construction work that violated the rights to water, to self-determination, to land and territory, and to life in various communities, particularly those in the ejidos of Ayala, Morelos.
It is worrisome that the Federal Electricity Commission (CFE) is trying to validate the development of the PIM by placing pipes in the Cuautla River, ignoring the fact that this infrastructure is part of an aqueduct that will feed the two thermoelectric plants in Huexca - the two most important constructions in the PIM. The CFE is also ignoring the 8 protections for the defense of the water of the Sprinkler Treatment Plant of Cuautla that becomes a tributary of the Cuautla River and against the aqueduct that would connect to the thermoelectric plant. It is necessary to listen Restart of operations of the Morelos Integral Project violates the rights of towns and ejidos and puts defenders at risk 2 to the demands of the affected native peoples who have expressed their absolute rejection of the development of mega-projects such as the thermoelectric plant, the gas pipeline, as well as the aforementioned aqueduct.
It is especially alarming that this occurs in a context of constant and serious aggressions and violations of human rights for more than a decade against the members of the FPDTA-MPT and Ejidos in Defense of Water of Ayala, who live in a context of imminent danger because of their roles as HRDs defending the territory. Its members have faced threats, harassment, and defamation for their work; lawsuits, attacks by armed groups, surveillance, court orders, imprisonment, torture, and the still-unpunished murder of defender Samir Flores...